We made a promise and pledge to help our Puerto Rico community in need that was left devastated after Hurricane Irma and Hurricane Maria. For every vehicle sold in October, we decided to donate $100 per vehicle to The United for Puerto Rico. Yes, $100! We are so proud to announce that we were able to raise a little over $50,000 to contribute to relief efforts to help victims of this natural disaster.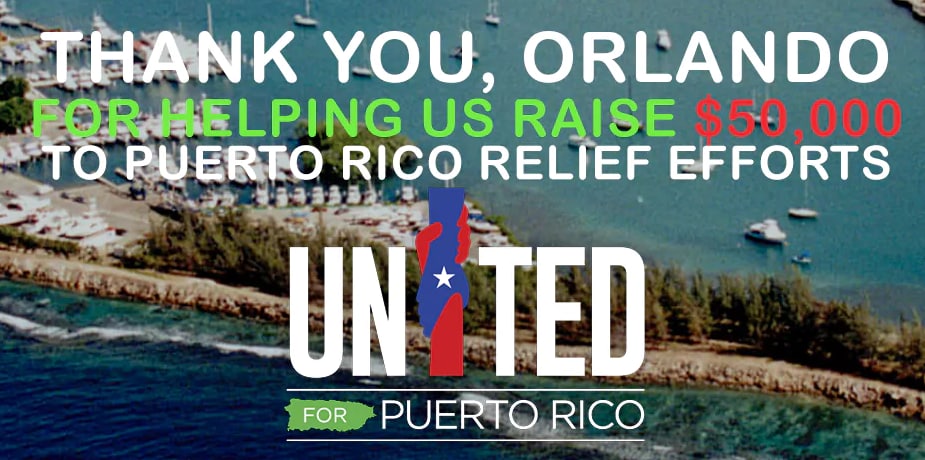 ---
From October 1st through end of day October 31st, we raised over $50k to donate to The United for Puerto Rico.
Between the last days of August up until the last days of September, a serious of hurricanes formed and hit major areas of the United States; Houston, Puerto Rico, Miami etc... Growing up to a Category 5 hurricane both Irma and Maria destructed everything in its path sending these areas into a state of emergency. Till this day, Puerto Rico still is without power with many families relocating to the states for shelter. Up to 50% of its power has currently been restored after almost two months of this disaster.
We support Orlando, and most importantly we support people! We are so pleased to have been able to assist with helping the Puerto Rico community for daily essentials that are needed because of this disaster. Any donation is helpful, and you are still able to donate to funds to aid in revival of the PR and help the people who have been affected by this natural disaster.
Every vehicle both New or Used, regardless of the price that was sold in the month of October, we donated $100 to our charity. The people of Orlando and surrounding areas, and anyone who may have traveled to help assist, we Thank You! Without you, we would not have been able to make this large contribution possible. We thank everyone who helped spread word about our charity to family, friends, co-workers etc... for that also help spread word and make a difference.
---
Donations for The United for Puerto Rico: https://www.unidosporpuertorico.com/en/