Honda North America and the Hispanic Scholarship Fund (HSF) partnered to honor 16 extraordinary Latino undergraduate students for academic excellence from around the country at the annual Scholar Awards Breakfast in Columbus, Ohio. Each student can recieve a scholorship up to $5,000 to help pay for tuition, books and living costs, depending fall enrollment.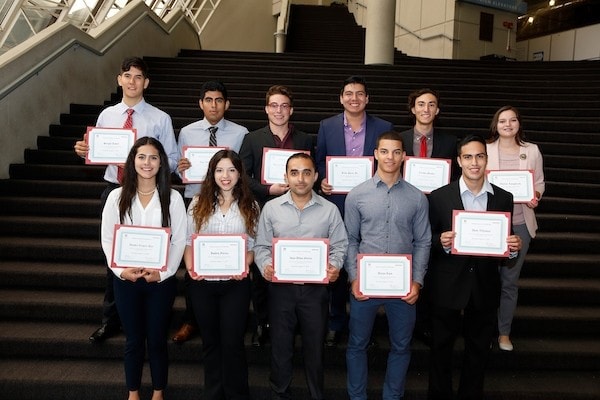 To spice things up this year, Honda has also offered the chance for all recipients to interview on-site for Honda's summer immersion internship. If accepted, students will recieve an extensive expereince in an automobile manufacturing environment. Students are selected for the scolarship based on their academic eminence and must obtain a 3.0 GPA.
"Honda is very pleased to once again support the Hispanic Scholarship Fund and this incredible collection of next-generation leaders," said Marc Burt, assistant vice president of the Honda Office of Inclusion and Diversity. "We believe that by supporting these students in their pursuit of higher-level education, the sky is the limit in terms of what they can accomplish."
After the breakfast, students went to Marysville, Ohio for a closer look inside Honda's manufacturing and research development operations in the state.
"It is more important, than ever, for us to provide students and families with the resources they need to successfully complete a higher education," said Fidel A. Vargas, President & CEO, Hispanic Scholarship Fund. "We are pleased to continue our partnership with Honda North America. This contribution demonstrates our partner's continued commitment to the Hispanic community and higher education."
2016 Students Selected for Scholarship:
Adeline Longstreth, Georgia Institute of Technology Main Campus, Engineering Adrian Garcia Badaracco, University of California San Diego, Health | Science Alondra Vergara-Diaz, University of Michigan Ann Arbor, Engineering
Brandon Werner, Baylor University, Business | Engineering Brian Luis, Boston University, Engineering | Health | Science
Carlos Mendez, Ohio State University, Engineering | Health | Science Cristina Guruceaga, Georgia Institute of Technology Main Campus, Business Diana Valenzuela, University of Southern California, Engineering
Ivan Ulloa Garcia, University of California Berkeley, Engineering Ivan Villamar, University of Illinois at Urbana Champaign, Science Jose Jarquin, University of California Irvine, Engineering
Joslyn Garcia, University of California Los Angeles, Engineering | Science Moses Kodur, University of California San Diego, Engineering
Patrick Lopez, Rensselaer Polytechnic Institute, Engineering
Rene Perez Jr, University of California Santa Barbara, Engineering Sergio Tovar, University of Texas at Austin, Engineering | Other
For more information about Honda's partnership with the HSF, please visit
HSF.net
.